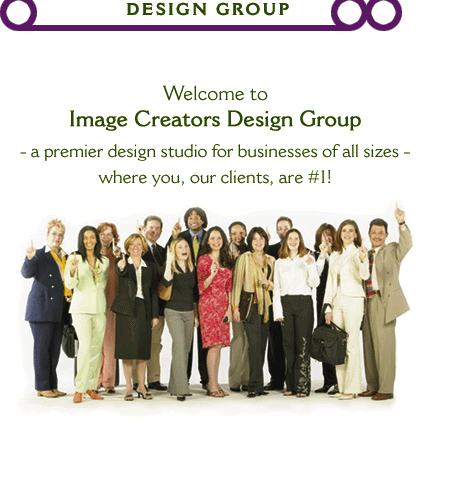 Great people. Great business. Great ideas.



Image Creators Design Group has them all and has been successfully working on client projects for over 25 years. We provide the highest quality professional services, which include creating corporate identity, designing and authoring websites, copywriting, providing catchy promotional products and wearables, and producing eye-catching, black & white and color print work. Whether in print, on the Internet, or on giveaways and wearables, our commitment to provide the client with the finest product available is absolute. We plan and provide complete projects, communicating clearly ever step of the way.

Each member of our group has many years of experience and an impressive array of awards and achievements, which is why more businesses rely on us for their design solutions. We are committed to producing everything expected by a client and more and we are proud of the fact that we do so within a budget.

We analyze not only the project but also the client's needs, ensuring the end result is exactly what the client has in mind and is exactly what the situation demands.



No worry. No hassles. Just great results.